Product added to cart!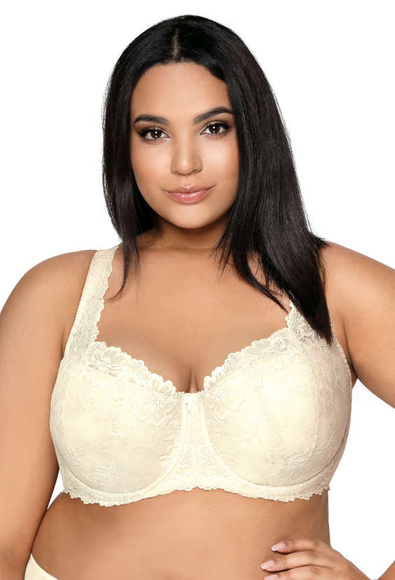 Padded bra creamy Carmela Big M-053/22
41,32 €
Go to cart
Continue shopping
This product is available in our stores
You can buy this product without placing an online order at one of our stores in your area. Check where the product is in stock.
Check availability
Phenomenal bra Carmela Big. Available in large sizes. Beautifully emphasizes neckline, perfectly gathers breasts. Thanks to a wide, decorative strap it allows to hide breast asymmetry. The cups made of fine creamy lace, which wraps the breasts in a sexy way and gently climbs the strap. Neat cups are set on a lace bavette and lace back, which are reinforced with elastic mesh. Adjustable straps, not removable. Two-row hook and eye with three-step adjustment.
Material composition: 44% polyamide, 16% cotton,18 polyester, 16% polyurethane, 6% elastane
Construction

:

padded

Model

:

1112A

Colour

:

kremowy

Side seam boning

:

no

Detachable bra straps

:

no

Removable inserts

:

no

Hook count column

:

2

Hook count row

:

3



| Size | Circuit under the bust | Circuit in the bust |
| --- | --- | --- |
| 65G/80G/30F | 63-67 | 89-91 |
| 65H/80H/30G | 63-67 | 91-93 |
| 65I/80I/30H | 63-67 | 93-95 |
| 70G/85G/32F | 68-72 | 94-96 |
| 70H/85H/32G | 68-72 | 96-98 |
| 70I/85I/32H | 68-72 | 98-100 |
| 75G/90G/34F | 73-77 | 99-101 |
| 75H/90H/34G | 73-77 | 101-103 |
| 75I/90I/34H | 73-77 | 103-105 |
| 80F/95F/36E | 78-82 | 102-104 |
| 80G/95G/36F | 78-82 | 104-106 |
| 80H/95H/36G | 78-82 | 106-108 |
| 80I/95I/36H | 78-82 | 108-110 |
| 85E/100E/38DD | 83-87 | 105-107 |
| 85F/100F/38E | 83-87 | 107-109 |
| 85G/100G/38F | 83-87 | 109-111 |
| 85H/100H/38G | 83-87 | 111-113 |
| 90B/105B/40B | 88-92 | 104-106 |
| 90C/105C/40C | 88-92 | 106-108 |
| 90D/105D/40D | 88-92 | 108-110 |
| 90E/105E/40DD | 88-92 | 110-112 |
| 90F/105F/40E | 88-92 | 112-114 |
| 90G/105G/40F | 88-92 | 114-116 |
| 95B/110B/42B | 93-97 | 109-111 |
| 95C/110C/42C | 93-97 | 111-113 |
| 95D/110D/42D | 93-97 | 113-115 |
| 95E/110E/42DD | 93-97 | 115-117 |
| 95F/110F/42E | 93-97 | 117-119 |