Product added to cart!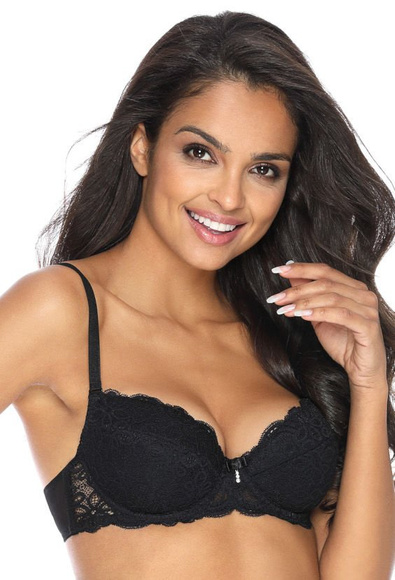 Push-up bra black Jackie M-0168/11/1
25,03 €
Go to cart
Continue shopping
This product is available in our stores
You can buy this product without placing an online order at one of our stores in your area. Check where the product is in stock.
Check availability
Grace and elegance is Jackie model. A bra in the color of classic black with push-up cups. The model beautifully lifts and gathers breasts. Bowls and top made of beautiful lace, back made of strong mesh stabilizing girth, reinforced with vertical underwiring. Detachable, adjustable straps. Double hook with three-step regulation. A jewellery decoration on the cups' connection adds delicacy and glamour to Jackie.
Material composition: 58% polyamide, 22% polyurethane, 15% cotton, 3% elastane, 2% polyester
Construction

:

push-up

Model

:

1108E

Colour

:

black

Side seam boning

:

tak

Detachable bra straps

:

yes

Removable inserts

:

yes

Hook count column

:

2

Hook count row

:

3



| Size | Circuit under the bust | Circuit in the bust |
| --- | --- | --- |
| 65B/80B/30B | 63-67 | 79-81 |
| 65C/80C/30C | 63-67 | 81-83 |
| 65D/80D/30D | 63-67 | 83-85 |
| 65E/80E/30DD | 63-67 | 85-87 |
| 65F/80F/30E | 63-67 | 87-89 |
| 65G/80G/30F | 63-67 | 89-91 |
| 70A/85A/32A | 68-72 | 82-84 |
| 70B/85B/32B | 68-72 | 84-86 |
| 70C/85C/32C | 68-72 | 86-88 |
| 70D/85D/32D | 68-72 | 88-90 |
| 70E/85E/32DD | 68-72 | 90-92 |
| 70F/85F/32E | 68-72 | 92-94 |
| 75A/90A/34A | 73-77 | 87-89 |
| 75B/90B/34B | 73-77 | 89-91 |
| 75C/90C/34C | 73-77 | 91-93 |
| 75D/90D/34D | 73-77 | 93-95 |
| 75F/90F/34E | 73-77 | 95-97 |
| 75E/90E/34DD | 73-77 | 97-99 |
| 80A/95A/36A | 78-82 | 92-94 |
| 80B/95B/36B | 78-82 | 94-96 |
| 80C/95C/36C | 78-82 | 96-98 |
| 80D/95D/36D | 78-82 | 98-100 |
| 80E/95E/36DD | 78-82 | 100-102 |
| 85A/100A/38A | 83-87 | 97-99 |
| 85B/100B/38B | 83-87 | 99-101 |
| 85C/100C/38C | 83-87 | 101-103 |
| 85D/100D/38D | 83-87 | 103-105 |
| 90C/105C/40C | 88-92 | 106-108 |