Product added to cart!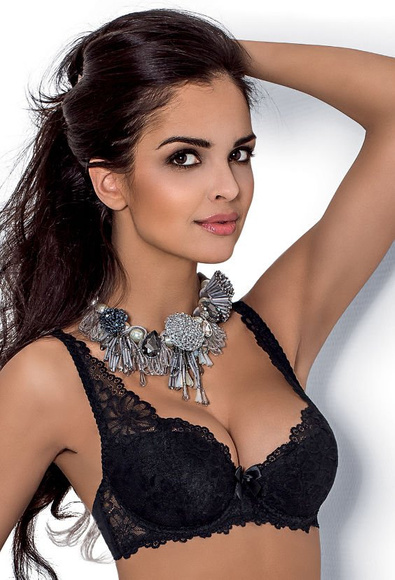 Padded bra black Carmela M-053/22
22,97 €
Go to cart
Continue shopping
Dreamlike Carmela bra. It looks beautiful on every breast. Cups made of subtle black lace, which wraps breasts sexy and gently climbs the shoulder strap. Shapely cups set on a lace bed. Smooth back made of elastic fabric reinforced with vertical bra. Adjustable straps, not removable. Two-row hook with three-step adjustment.
Composition: 66% polyamide, 18% cotton, 10% polyurethane, 6% elastane
Construction

:

padded

Colour

:

black

Side seam boning

:

no

Detachable bra straps

:

no

Removable inserts

:

no

Hook count column

:

2

Hook count row

:

3



| Size | Circuit under the bust | Circuit in the bust |
| --- | --- | --- |
| 65B/80B/30B | 63-67 | 79-81 |
| 65F/80F/30E | 63-67 | 87-89 |
| 70A/85A/32A | 68-72 | 82-84 |
| 70D/85D/32D | 68-72 | 88-90 |
| 70E/85E/32DD | 68-72 | 90-92 |
| 70F/85F/32E | 68-72 | 92-94 |
| 75C/90C/34C | 73-77 | 91-93 |
| 75F/90F/34E | 73-77 | 95-97 |
| 75E/90E/34DD | 73-77 | 97-99 |
| 80B/95B/36B | 78-82 | 94-96 |
| 80C/95C/36C | 78-82 | 96-98 |
| 80D/95D/36D | 78-82 | 98-100 |
| 80E/95E/36DD | 78-82 | 100-102 |
| 85B/100B/38B | 83-87 | 99-101 |
| 85C/100C/38C | 83-87 | 101-103 |