Product added to cart!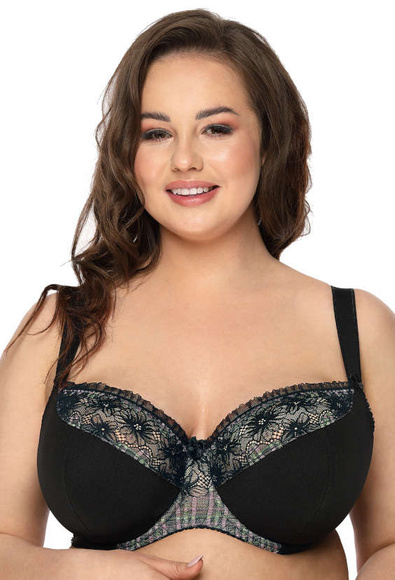 Semi-soft bra black-coloured Lissy M-3308/21
42,10 €
Go to cart
Continue shopping
This product is available in our stores
You can buy this product without placing an online order at one of our stores in your area. Check where the product is in stock.
Check availability
Elegant semi-padded bra from Lissy model. Lower part of cups made of thin corset foam covered with mesh. Upper part of cups decorated with colorful lace with checkered pattern. Between the cups there is a colourful lace with a checkered pattern which ends in the middle of the underwire. Between cups and on the straps decorative bow. Adjustable straps, not removable. Double or triple row embroidery with three-step adjustment depending on the size.
Material composition: 34% polyamide, 19% polyester, 18% polyurethane, 18% cotton, 7% elastane, 4% viscose
Construction

:

semi-soft

Model

:

2104C

Colour

:

czarno-kolorowy

Side seam boning

:

no

Detachable bra straps

:

no

Hook count column

:

2

Hook count row

:

3



| Size | Circuit under the bust | Circuit in the bust |
| --- | --- | --- |
| 65E/80E/30DD | 63-67 | 85-87 |
| 65F/80F/30E | 63-67 | 87-89 |
| 65G/80G/30F | 63-67 | 89-91 |
| 65H/80H/30G | 63-67 | 91-93 |
| 70D/85D/32D | 68-72 | 88-90 |
| 70E/85E/32DD | 68-72 | 90-92 |
| 70F/85F/32E | 68-72 | 92-94 |
| 70G/85G/32F | 68-72 | 94-96 |
| 70H/85H/32G | 68-72 | 96-98 |
| 75C/90C/34C | 73-77 | 91-93 |
| 75D/90D/34D | 73-77 | 93-95 |
| 75F/90F/34E | 73-77 | 95-97 |
| 75E/90E/34DD | 73-77 | 97-99 |
| 75G/90G/34F | 73-77 | 99-101 |
| 75H/90H/34G | 73-77 | 101-103 |
| 80C/95C/36C | 78-82 | 96-98 |
| 80D/95D/36D | 78-82 | 98-100 |
| 80E/95E/36DD | 78-82 | 100-102 |
| 80G/95G/36F | 78-82 | 104-106 |
| 80H/95H/36G | 78-82 | 106-108 |
| 85B/100B/38B | 83-87 | 99-101 |
| 85C/100C/38C | 83-87 | 101-103 |
| 85D/100D/38D | 83-87 | 103-105 |
| 85E/100E/38DD | 83-87 | 105-107 |
| 85G/100G/38F | 83-87 | 109-111 |
| 85H/100H/38G | 83-87 | 111-113 |
| 90B/105B/40B | 88-92 | 104-106 |
| 90C/105C/40C | 88-92 | 106-108 |
| 90D/105D/40D | 88-92 | 108-110 |
| 90E/105E/40DD | 88-92 | 110-112 |
| 90F/105F/40E | 88-92 | 112-114 |
| 90G/105G/40F | 88-92 | 114-116 |
| 95B/110B/42B | 93-97 | 109-111 |
| 95C/110C/42C | 93-97 | 111-113 |
| 95E/110E/42DD | 93-97 | 115-117 |